The long Ez has conventional tricycle gear. A solid fiberglass main gear strut is at the rear of the aircraft and forward is a retractable nose wheel. The nose wheel retracts for a slight gain in airspeed, but more importantly, it retracts so the aircraft can be parked on the ground. You see, the aircraft is balanced in flight with a person in the front seat. On the ground with no person in the front seat, the plane is tail heavy, so the nose wheel is lowered to allow the weight to move forward and allow the plane to be parked on the ground. This is called "grazing"
Wondering how strong the gear is? This landing gear strut is from a wrecked aircraft. The plane struck the ground in a level attitude at a high rate of speed. The fiberglass tabs held, the 3/8 bolt sheared, and the gear strut simply fell from the aircraft.
Wondering why I love the internet? There is only one company that still makes landing gear struts for the long EZ. Featherlite, in California. Their price for the strut was reasonable, but it was almost $200 to ship the thing to me in Florida. On
http://barnstormers.com
I found a man near Atlanta with this strut. When the wife and kids and I went on our summer vacation trip to North Carolina, we made a detour and now I have a main landing gear strut for $100.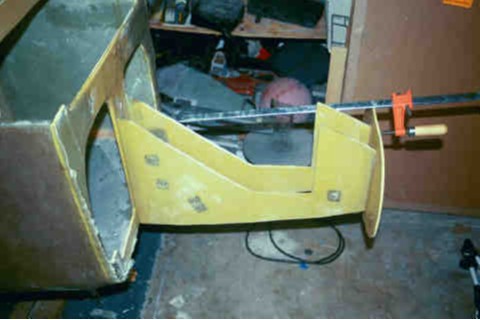 Above is a shot of the nose box. It is two high density foam sections bonded to the front of the F22 bulkhead. It supports the weight of the nose section and nose gear. The dark colored squares on the box are extra layups for bolts to attach the nose retract mechanism and nose strut pivot.
One of the more popular modifications for the Long EZ is an electronic nose gear retract system. They are nice, for one thing you can crawl in the airplane while it is in the grazing position and extend the nose gear and taxi off. However, costs and simplicity led me to stick to the original design.

The green strut is visble here. This is the left gear attachment The green strut is attached to the fuselage by a 3/8 inch bolt which passes throught the two aluminum attachments. Fiberglass "tabs" are layed up on the strut for the bolt to pass through. In case you are wondering, the tabs from front to back are 36 layers of cloth. Below is another photo of the main gear attachment bracket from a different angle.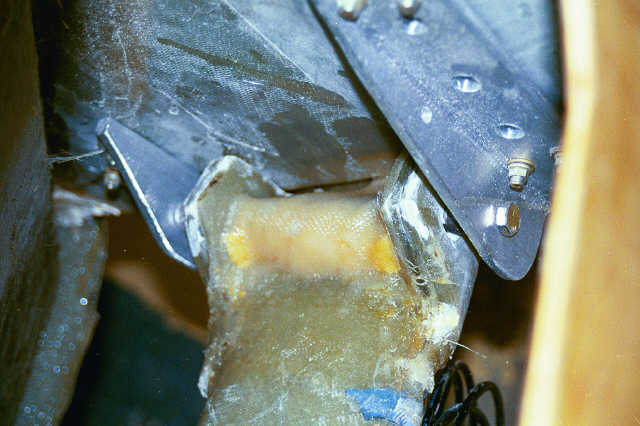 Below is the main landing gear bow on the workbench. It is a solid section of S-glass. It then receives layups of alternating bidirectional and unidirectional glass. You can see the attach tabs have not been added yet.